My Friend, Stan Dale
Ten years ago, I stopped in at the hospital on my way to a Connecting in Love, weekend workshop, to see how my friend, teacher, mentor, was doing.  He'd been going downhill all week, and it was pretty clear that it was time to say goodbye. I stood at his bedside, talked to him, though I doubt he heard me, stroked his hand, stroked his face, told him I loved him. And then I headed north to the workshop. By the time I reached the venue Stan had died, peacefully, surrounded by friends and family. So long old friend…
These days I meet a lot of people at HAI events who never met Stan, or saw him once or twice but never really knew him. It's not surprising. Thousands of people have participated in HAI workshops and events since Stan was around. His name gets mentioned, maybe a sentence or two about who he was to HAI, and then we're back in the present, opening our hearts, seeing messengers of love all around us, laughing, learning, growing. So, I'd like to introduce you to my friend Stan.
Early Years on the Airwaves
In 1953, in the midst of his successful career in radio, Stan was drafted into the US Army Signal Corps and sent to Korea, transitioning from "Stan the Radio Man" to PFC Dale. After 9 difficult months in Korea, he was transferred to Tokyo, Japan and given a radio program with US Armed Services Radio. The format of his show was person-to-person interviews with a wide range of American Service Personnel, talking to the "man-in-the-street," drawing attention to the various programs and services the US was providing in both Japan and Korea.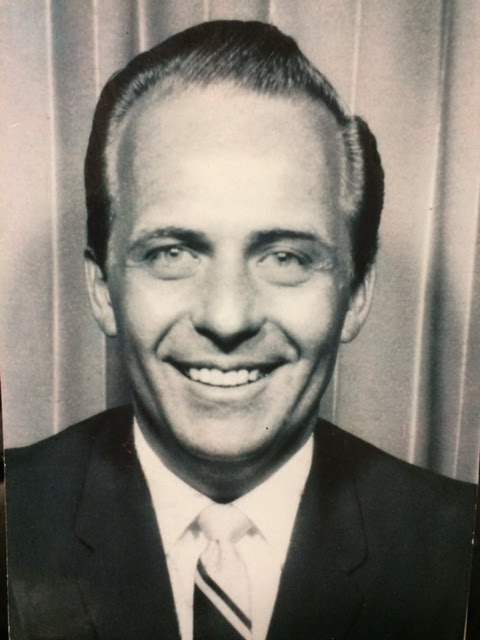 As part of that task, Stan attended a Hollywood party at a famous Tokyo geisha house in honor of a new movie about to be shot in Japan and Hong Kong – "Joe Butterfly" starring Audie Murphy and Keenan Wynn. While at the geisha house, in a conversation with the owner, Stan was invited and gratefully accepted the offer to come live there and learn about the geisha tradition.
Stan observed the geisha training – their commitment to treating people with dignity, understanding, compassion and respect. His experience there fostered his intention to treat everyone he interacted with in a loving and accepting manner and to also teach others how to honor each other.
Returning to the States after his service, Stan went back to his career in radio. Some of the memorable radio programs he worked on were The Lone Ranger, Sergeant Preston of the Yukon, and The Green Hornet. For a brief period Stan was the voice of The Shadow. As radio became more about spinning records Stan worked as a "disc-jockey" for a bit. Ultimately Stan originated and hosted one of the first psychology-based call-in talk shows.
Originating Heart-Opening, Sex-Positive Workshops
By mid 1960's, as the so-called "sexual revolution" was in full swing, the 39-year-old Stan Dale noticed that many of the callers to his radio show wanted to talk about sex and intimacy. At the time, station owners were concerned with losing their FCC Broadcast license if they allowed talk about those taboo topics on the air.
In mid-August of 1968, Stan took the huge step to invite his listeners to join him for a weekend of informative, heart-opening, sex-positive celebration that he called "The Sex Workshop". Part lecture, part exercises, part sharing, Stan created an event to help people explore, experience and talk about this very human, yet very hidden activity – SEX. At the same time Stan began to integrate the lessons of his geisha experience into these events.
In 1972, after being forced off the air in Chicago for being too supportive of the anti-war movement, Stan moved to Santa Rosa, California. He brought his radio show to KIOI, then KSFO, and ultimately KGO. And he began looking for a venue for his workshops. He hoped to locate the workshops at a site that was conducive to deep personal exploration, with room to grow. He also hoped to find a venue that resonated with Stan's expansive vision of "creating a world where everyone wins". After a couple of years at Orr Hot Springs, Stan found Harbin Hot Springs and Harbin embraced Stan and HAI for more than 30 years.
Stan used to say of the workshops, that it was as if he had found a big beautiful gem lying on the path in front of him and he picked it up and began to polish it. That gem was HAI. He applied his knowledge of human sexuality to help people become comfortable with sexuality and understand that touch and intimacy don't have to be sexual.
Stan's Background
Stan held advanced degrees in psychology and sociology from Roosevelt University, Chicago and the Illinois Institute of Applied Psychology. He received an honorary Doctorate in Human Sexuality from The Institute for the Advanced Study of Human Sexuality in San Francisco where he was Adjunct Professor of Behavioral Studies in Human Sexuality.
He was on the faculties of Loyola University, Mundelein College in Chicago, and Sonoma State University in Cotati, California. He was a frequent lecturer at many colleges and universities in California and elsewhere, including China's Shandong and Beijing Universities, where he was a visiting professor.
And, as he was fond of saying, he was "just a kid from the Bronx." He was a loving husband to his wives Helen and Janet, and a proud father to his 6 children, and a doting grandfather to his 10 grandchildren. He was a truly happy man who genuinely loved people. He didn't always love what some people sometimes did or said, but he deeply believed that everything people said and did was either an act of love or a cry for love. And Stan had an amazing capacity to see and respond to that love in everyone. Really, everyone.

Personally, Stan let me know, again and again, the love and esteem he had for me. And I drank that up like mother's milk. Like most people, I carry my fair share of wounds and hurts Stan's love and appreciation helped me let go of the hold my past had on me, and freed me to step into a version of the "best" me. And, as I listened to all who spoke at his Memorial Gathering, I heard so many share their version of that same experience.
Ten years have passed and there's not a day I don't think about Stan Dale. I wish you all could have known him and he could have known you. I KNOW he would've loved you.